Show Your Support: Have you heard of Phoronix Premium? It's what complements advertisements on this site for our premium ad-free service. For less than $4 USD per month, you can help support our site while the funds generated allow us to keep doing Linux hardware reviews, performance benchmarking, maintain our community forums, and much more.
Wayland's Weston Was Rapidly On The Rise This Year
After yesterday recapping
Mesa's development this year
and
LLVM's growing development
, up today are some statistics concerning Wayland and its Weston compositor this year from the Git side.
Wayland itself with its core Git repository is at just 20,719 lines of code spread across 103 files. Most of this is just the core XML protocol and associated code while most of the upstream Wayland work is focused upon the Weston playground for new experiments and deciding what needs to be added to the core protocol. Wayland's Git has seen 1,451 commits from 90 different authors.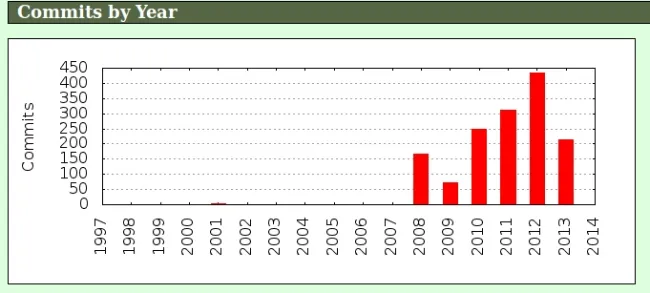 Wayland saw just 215 commits this year, compared to 434 commits the month prior. However, this lower count isn't too surprising given that core Wayland has begun stabilizing and most work now is focused upon Weston and work outside like on porting tool-kits and external projects to using this display protocol.
Kristian continues to be responsible for most of the upstream work on the project he founded seven years ago. Other top authors this year included Aaron Faanes, Bryce Harrington, Jason Ekstrand, Alexander Larsson, Peter Hutterer, and Matthias Clasen.
Wayland is up to 103 files spread across 20,719 lines of code as of earlier today.
The line count continued to rise this year.
Wayland's Weston compositor is what was really on the rise this year with seeing many commits and lots of new code. Weston is up to 189 files accounting for 84,670 lines of code, much of which was added this calendar year. Weston has seen 3,714 commits from 130 different developers.
While Weston saw a ton of new code land in 2013 providing lots of new features and functionality, by commits it's actually down compared to 2013. Weston saw 1,503 commits in 2012 but year to date it's saw only 1,086 commits.
Top contributors to Weston this year were Kristian along with Philip Withnall, Jan Arne Petersen, and Philipp Brüschweiler.
The line count of Weston was rapidly rising this year with all of the features added.
In case you missed it, be sure to read about
the new features coming to Wayland/Weston 1.4
when it should be officially released next month. In comparison, there's also
Mir development statistics
from this week.