Intel Haswell-Based Apple MacBook Air, HD 5000 Benchmarks
Earlier this week at the Apple Worldwide Developers Conference, the refreshed MacBook Air laptops were released and based upon Intel's new
Haswell
processors. The brand new 11-inch Apple MacBook Air with the beautiful Core i5 Haswell CPU and Intel HD Graphics 5000 GPU is already within the Phoronix labs and being benchmarked.
For those that
follow me on Twitter
know that for days already I've been playing with the new Haswell-based MacBook Air. While there's a great number of Linux users not liking Apple products, the 11-inch MacBook Air with a battery life of up to nine hours (the 13-inch Air can boast up to a 12 hour battery life!), 1.08 kg weight, and very thin form factor makes the new MacBook Air appealing when considering it has inside a dual-core Core i5 Haswell CPU with the impressive new graphics capabilities.
From this new Apple MacBook Air will be benchmarks comparing the Intel Core i5 Haswell HD 5000 graphics performance between OS X 10.8.4 and Ubuntu Linux (among other distributions), a look at the performance-per-Watt of the competing operating systems, the overall performance between OS X and Linux, initial OS X 10.9 Mavericks benchmarks, and much more. Stay tuned for many exciting articles in the coming days and weeks from this sleek new laptop.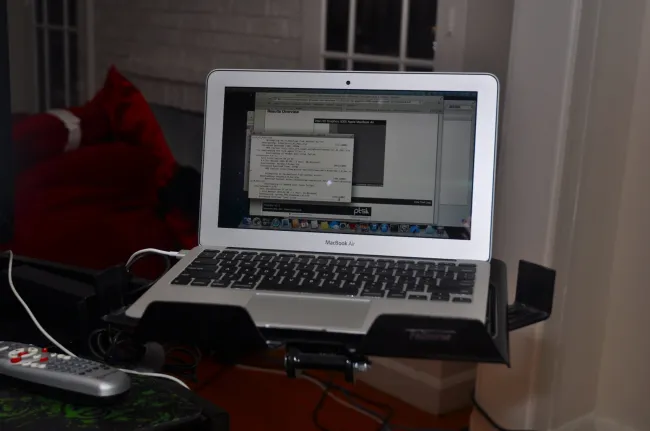 There aren't any exciting benchmark results to post at the moment, but for those curious about the overall speed of the 11-inch Core i5 MacBook Air (MD711LL/A), I've started uploading results to
OpenBenchmarking.org
.
1306144-UT-INTELHDGR04
- Here's the first OpenGL benchmark results on Phoronix of the Intel HD Graphics 5000 as found in the Core i5 Haswell CPU on the MacBook Air. Many more OpenGL benchmarks are forthcoming.
1306154-UT-INTELHASW31
- A variety of other general graphics and CPU benchmark results from Apple OS X 10.8.5 with the MacBook Air MD711LL/A.
Any other test requests from the Linux vs. OS X Haswell comparison and other suggestions can be directed to
@MichaelLarabel on Twitter
. In the mean time, you can see how your own system(s) perform against this new Apple MacBook Air by installing the
Phoronix Test Suite
and then simply running
phoronix-test-suite benchmark 1306144-UT-INTELHDGR04 1306154-UT-INTELHASW31
.