LinuxTag Berlin 2012 Wrap-Up
LinuxTag 2012
ended this weekend at the Berlin Messe in Germany.
Sadly, the overall quality of the annual LinuxTag event seems to be going down hill. In the four years that I have been trekking to northern Germany for LinuxTag, this year seems to have been the worst. In talking with others who have been regular attendees to LinuxTag even before the event took place in Berlin, they all agree that LinuxTag 2012 wasn't the best.
The number of booths, the companies and developers in attendance, and the quality of the actual talks all seemed to be on a decline. Most of the time I and others were simply sitting by a coffee stand to catch-up since most of the schedule was less than interesting. For being Germany's premiere Linux/open-source conference -- unless counting CeBit -- this was a disappointment.
At least though there were a few interesting items that made it worthwhile...
The biggest hit at the event for most of the attendees was the free
openSUSE beer and Fedora hot dogs
-- see that article for more details on the Beefy Miracle food and the
openSUSE "Old Toad" beer
from Franconia. There were also
Ubuntu pickles
again, but the quality of that Saturday Ubuntu BBQ was much better than last year -- and much nicer weather!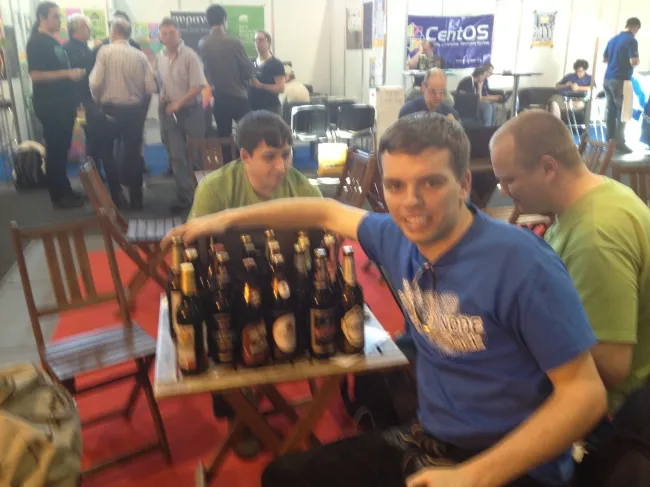 Speaking of beer, a Phoronix reader had brought me ~23 bottles of (good) beer! The vast majority of the beers were from Saxony and the Czech Republic, which I never had tried previously. It was quite a treat. Thanks Adarion!
the unlikely sponsors of the event
. Besides Microsoft tossing in money, sponsoring part of the evening reception, setting up a Microsoft Blogger Lounge with cafe, and other forms of partnering with LinuxTag, two other somewhat unusual names to see here were Nokia and Oracle.
The
open-source ARM Mali driver
is coming along with
the Portal Companion Cube now running
. Other mobile news was that
the Facebook Phone will run Linux
.
OpenGL ES 3.0
will be here this summer too as some other mobile Linux news.
Also from LinuxTag was
the release of Dragonfire and Hellfire
.