Show Your Support: This site is primarily supported by advertisements. Ads are what have allowed this site to be maintained on a daily basis for the past 18+ years. We do our best to ensure only clean, relevant ads are shown, when any nasty ads are detected, we work to remove them ASAP. If you would like to view the site without ads while still supporting our work, please consider our ad-free Phoronix Premium.
The Biggest Quality Problem At Ubuntu 12.10 UDS
When announcing
the Quantal Quetzal
, Mark Shuttleworth mentioned "quality" over ten times in his blog post. He also reinforced the quality of Ubuntu at his keynote on Monday for the Ubuntu Developer Summit. But what's the biggest quality issue this week in Oakland?
While this is another quality UDS event overall organized by Canonical, and for this Ubuntu "Q" cycle they seem to be all about quality, there is at least one item from being quality this time for the event...
What's the quality issue for this Ubuntu Oakland event? It shouldn't come as a surprise for those that know me, and for this event being in California, but it's the beer quality... I've not been the only one to notice the quality of the beer being a total wreck this time, but many others have as well.
At the Ubuntu events this week it's come down mostly to
cans of shit
. Bud Light, Corona, Budweiser, and Heineken. On Monday there was at least bottles of shit and I did end up having my first Heineken in a long, long time and it was toxic with it only ever tasting good in Amsterdam.

To go with the horrific beer on Tuesday was a really weird Google party... The quality of Google-sponsored Linux parties have really went downhill in his recent years. This party was just downright odd. They were trying to make it unique and entertaining, but the execution of it just turned out to be downright weird and somewhat creepy. Ah well, at least Intel continues to throw the best parties...
None of these beers comply with the
Reinheitsgebot
or are tasty by almost any standard. They're just poisoning the Ubuntu developers rather than introducing them to wonderful beers that can induce inspiration or enlightening them to different beers available throughout the world or even the craft beers of California. Drinking these low-quality beers can also reduce their productivity that evening and the following morning, but ah well, it's too late now.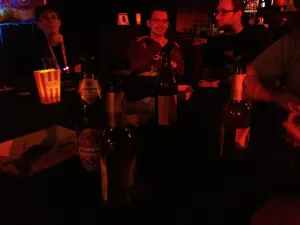 Quality bottled beer from Bavaria begins to surface...
Being in America isn't an excuse since there are some decent micro breweries here on the west coast. Even when Ubuntu was much younger (circa Ubuntu Live back in 2006 or so) there was better quality micro brews at the event. The cost difference at such events is also minimal, as I know when
Phoronix sponsors entertaining beer events at Linux/X summits
. At least at the UDS European events the low-quality beer is still a step (or a few steps) higher than the American beer. In fact, it was Jorge Castro on Monday who reminded me and asked where was my "beer bag" for this UDS.
my Twitter followers
know. Heck, I even specially
pick out beers for Valve Software
Linux developers and write
guides to Oktoberfest
.

Enjoying a Weihenstephaner Vitus for the Linux publishing friends at Linux New Media back in Munich.
While the Quantal Quetzal is supposed to be about quality, the beer is not. So as a public service announcement for those Ubuntu developers not wishing to continue consuming toxins, for those Phoronix readers,
Phoronix Test Suite
/
OpenBenchmarking.org
, and/or
Twitter followers
, there's usually good beer that's magically around.
I would also suggest to Canonical that they come up with their own crafted beer, since
SUSE even has its own branded beer
.