Intel Core i7 3960X Sandy-E Takes Big Dive On Linux
While the thousand-dollar Intel Core i7 3960X "Sandy Bridge" Extreme Edition processor can
build the Linux kernel in under 60 seconds
, this morning it took a nasty dive under Linux.
This morning when booting up the Core i7 3960X system, which is paired with the Intel DX79SI motherboard also sent over by Intel Corp, the Ubuntu 12.04 LTS snapshot couldn't boot from the SATA3 disk. Nothing changed in the software or hardware configuration between last night when it was running smoothly and this morning. The Sandy-E system also couldn't boot the live USB images of Ubuntu 11.10 or Ubuntu 12.04 LTS.
When changing around the GRUB2 configuration so that there was no splash screen (Plymouth) displayed on boot and removing the quiet parameter, it was discovered that about two seconds into the boot process of the Linux 3.2 kernel the system would just sit there...
Then after about two minutes of no output, the kernel call trace would be printed as it looked like the CPU stalled. And then that was the end of it, with nothing further. The trace begins with
print_other_cpu_stall
or on some boots it turns out to be
check_cpu_stall.isra
.
Upgrading the BIOS/UEFI yielded no results nor did swapping out the DDR3 RAM, pulling the battery, changing any kernel command line parameters, or making other changes yield anything to improve the situation... Until playing with the UEFI. After trying out several options unsuccessfully to get Ubuntu Linux to now boot, even though it worked just fine on Saturday and Sunday, the critical option was discovered. When
disabling the Intel dynamic power option
from the UEFI interface, Ubuntu Linux went back to booting and working just fine.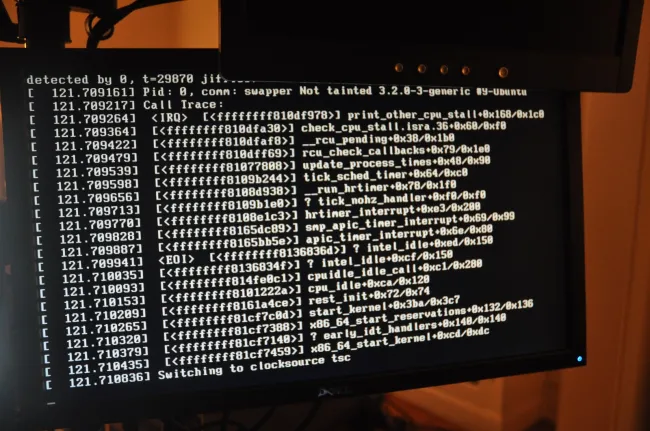 However, this option was enabled in the tests over the weekend just fine. Besides disabling Intel's dynamic power technology leading to an increase in power usage, when this option is disabled, Turbo Boost also gets disabled. Turbo Boost has a measurable benefit on the system's performance with the Intel Core i7 3960X being able to go from 3.3GHz to 3.9GHz when needed. But now Ubuntu 12.04 LTS won't work in this configuration, even after making several other changes.
I then proceeded to overclock the system and it will still run with Linux fine, up to 4.5GHz (or 4.625GHz with an occasional lock-up), but it can't boot the Linux kernel at its overclocked speeds or stock when dynamic power is enabled. (At last when running her at 4.5GHz, the kernel build goes from being just shy of 60 seconds to now building in less than 50 seconds.)
I'm just sharing this posting now in case any Phoronix readers happen to come across this issue with new hardware or have experienced it in the past. If you have any information, please
contact me
or
post in the forums
.
Aside from this snafu, the Intel Core i7 3960X Extreme Edition has been running fantastic and delivering some impressive Linux performance numbers. I should have a bulk of the Sandy-E benchmarks to publish in the next day or two, which were recorded on Saturday and Sunday prior to experiencing this problem. Worth noting though is that the i7-3960X and the Intel X79 motherboard were both pre-production parts, with the UEFI version on the board up until that point being marked with "beta - evaluation use only." Assuming this isn't some widespread Linux or hardware bug, I'm still loving the Core i7 3960X.