Benchmarks From Wine 1.3.21 To Wine 1.3.30
Here's a glance at how the Direct3D/OpenGL performance in Wine has evolved over the past several months, from Wine 1.3.21 to Wine 1.3.30.
One of the many organizations that rely upon the
Phoronix Test Suite
and
OpenBenchmarking.org
software is CodeWeavers for measuring the progress of Wine, particularly when it comes to the graphics performance. Stefan Dösinger has been using our automated testing infrastructure for carrying out Wine benchmarks on a near-commit basis (he's not doing it yet quite on a per-commit basis, but in between that and a daily basis). Stefan spoke about this earlier in the month at
WineConf
. There doesn't appear to be any slides or video from his talk, but below are a few screenshots from their Phoronix Test Suite results on OpenBenchmarking.org for those interested in seeing how the Wine performance has evolved in recent months. Displayed are around 180 commits of Wine between the 1.3.21 and 1.3.30 releases.
The Phoronix Test Suite can operate seamlessly within Wine, just like its support for BSD, Mac OS X, and Solaris operating systems too. Right now the tests they are routinely conducting are from Wine on Linux, but they'll be expanding that soon for better test coverage. Stefan also created a number of custom tests for the Windows/Wine benchmarking, such as for Half-Life 2 with the Phoronix Test Suite and other tests/games with Direct3D renderers. Those custom tests will be uploaded by him to OpenBenchmarking.org in the future as well. Also forthcoming is the new, completely-rewritten version of
Phoromatic
that I've been writing atop the OpenBenchmarking.org infrastructure and full integration support there, which will offer up many new features.
The test system shown here is from an AMD Athlon 64 X2 3800+ with NVIDIA GeForce 7600GT graphics on Ubuntu 10.04 LTS. Tests have also done tests from an Intel Core i7 860 setup using ATI Radeon HD 5700 graphics and other environments. A search for
Wine on OpenBenchmarking.org
will yield a portion of the results.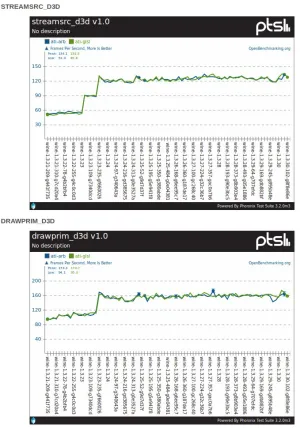 Above are results from two custom Direct3D tests. As you can see, during Wine 1.3.23 there were some nice performance improvements to the Wine D3D implementation. (See
Wine 1.3.23 Hooks Into More Direct3D 9.0 Functionality
and
Wine 1.3.24 Continues Direct3D 9.0 Implementation
.)
The Clear D3D test and 3DMark 2011 regressed a bit (perhaps though as a result of implementing more Direct3D functionality) around Wine 1.3.25.
3DMark 2000 and Half-Life 2 can be operated from the Phoronix Test Suite. The performance of this older version of 3DMark has been relatively stable in Wine for the past few months, but Half-Life 2 has taken a few dips.
Half-Life 2 performance using the DirectX 8 renderer has been similar to that of the newer DirectX 9 renderer over the course of the tested Wine versions. Trackmania Nations has been relatively stable in Wine.
While there's native Mac OS X and Linux versions of the Unigine Engine, running the Unigine Heaven benchmark within Wine has been relatively stable.
If there's much interest, there may be some of these Wine benchmarks carried out on Phoronix.com with the latest Wine release on a selection of hardware to see where things are at now for Linux gamers. Any test suggestions or other feedback is also welcome either for the Phoronix Test Suite / OpenBenchmarking.org or for passing along to the Wine/CodeWeavers crew.
While on the subject of Wine, below is an embedded video of Alexandre Julliard's keynote from WineConf 2011 earlier this month in Minnesota.