The Growing Number Of Open-Source Projects
Rich Sands of Black Duck was presenting at this week's Linux Foundation Collaboration Summit and he shared some interesting statistics regarding open-source projects.
With Black Duck being the company that acquired
Ohloh
in 2010, most of the numbers shared during this presentation were from Ohloh-listed projects, but nevertheless the numbers were interesting.
Of the over half-million projects tracked by Ohloh, ~17% of them were active in the past year while about half of them had at least a commit in the past two years. Just over 5,000 of the 550,000+ projects had a commit in the past week at the time of collecting the numbers.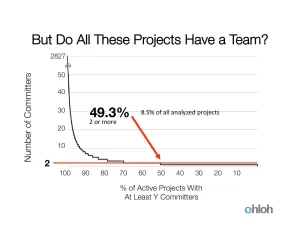 About half the projects had at least two or more contributors.
The top 50 Ohloh-tracked "live" projects topped out with the Linux kernel followed by Google's Chromium, KDE, Mozilla Firefox, Mozilla Core, Boot To Gecko, and then GNOME.
A look at how big the live projects are...
Of the "live" projects, C/C++ commands most of these projects. The language popularity was followed by Java, Python, JavaScript, and others.
Of the top 5000 live projects on Ohloh, the top languages for average liveness classified by language was C++ followed by C, Ruby, and PHP. Of the reported languages, C# had the lowest level of liveliness -- it's usage reported on the previous slide was also quite low --
something that won't please Miguel de Icaza
.
The average C++ project size was nearly seven million lines of code while PHP was just above five million lines and Python and Perl came in just shy of 1.5 million lines of code on average for the top 5000 live projects.
Java led when it came to the total number of committers.
Java is also leading when it comes to new projects. Below is Black Duck's summary of their Ohloh project analysis.
Black Duck's slides in full can be found
here
(PDF).