Linux 4.3 Git Stats: 20.6 Million Lines
With
Linux 4.3 expected for release today
, I ran GitStats atop the latest Linux mainline Git code this morning for the latest development statistics.
GitStats reports the latest Linux 4.3 Git code as being comprised of 51,570 files that amount to 20,618,159 lines. There's been 548,273 commits from 14,335 authors according to the Git data. It's important to note that the 20.6 million lines isn't just of pure code but also includes documentation, the included Linux utilities like turbostat, the Kconfig files, and everything else within the Linux Git tree.
Just back in June when I last ran GitStats on the Linux kernel tree,
it was at 19.5 million lines
so in less than a half year over one million lines were added! At that time it was 19,509,218 lines in 49,457 files across 520,260 commits from 13,708 authors.
Linus Torvalds was the "author of the month" every month this year except for in January when SUSE's Takashi Iwai took the top spot and in August when Ben Skeggs was the author of the month. Ben Skeggs at Red Hat made it in August due to landing the huge Nouveau driver re-work for the Linux 4.3 kernel. The other frequent authors are common names like David Miller, Arnd Bergmann, David Airlie, Russell King, Thomas Gleixner, Mark Brown, Al Viro, Igno Molnar, etc.
While many Linux kernel developers chose to use their personal Gmail addresses when making Git commits, when it comes to commits by companies, Red Hat leads with representing 5.9% of all commits. Intel followed closely behind with 5.32% while the Linux Foundation came in third at 3.14%. Following the Linux Foundation were SUSE, Linaro, Texas Instruments, and Samsung. Ubuntu/Canonical didn't make the top ten list.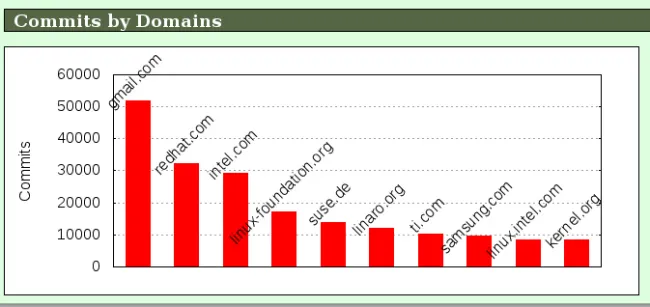 The line count for the Linux kernel continues to rise and for Linux 4.4 will probably surpass 21 million lines.
If you're not already familiar with Linux 4.3, read my
feature overview
. I've also already been writing about
what to expect with Linux 4.4
.