Benchmarking The Potato & Firefly: New ARM Linux Boards
When receiving
the long-awaited AMD ARM board
yesterday I also received Le Potato Libre Computer Board and the Firefly RK3399.
Le Potato is the recently talked about ARM SBC that is the
New Libre-Focused ARM Board Aims To Compete With Raspberry Pi 3, Offers 4K
.
The folks at BayLibre and LoveRPi are working to get upstream support for Le Potato in Linux 4.13~4.14. Ubuntu 16.04 and Debian 9 images using Linux 4.9 will be released soon. This ARM board is expected to begin shipping soon and globally by late September / early October while being organized from
this Kickstarter page
.
The board has four Cortex-A53 cores, ARM Mali 450 graphics, HDMI 2.0, 4 x USB 2.0, 100Mb Ethernet, eMMC, and microSD.
The Firefly RK3399 meanwhile is a higher-end board that features two Cortex-A72 cores, four Cortex-A53 cores, ARM Mali-T860 graphics, USB 3.0 Type-C, and more while being centered around the Rockchip RK3399.
The Firefly especially should be a fun board for some ARM Linux benchmarking. This board is available today and is
$159 via Amazon
and is Prime eligible.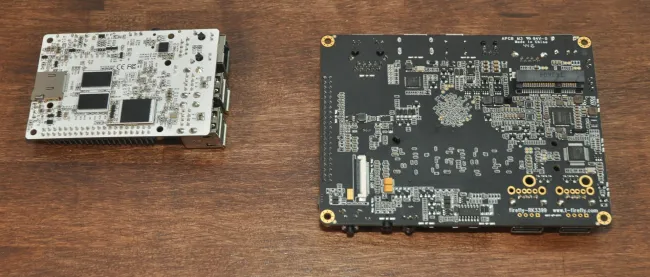 I'll have benchmarks on this latest set of boards soon. Thanks to
LoveRPI.com
for sending them out.