Running Linux On The Intel Compute Stick
The Intel Compute Stick has begun shipping, a tiny device that plugs into any HDMI TV or monitor and turns it into a fully-functioning computer. This low-power PC ships with Windows 8.1 or Ubuntu 14.04 LTS, though at the moment the Windows version is first to market with the Ubuntu Compute Stick not widely shipping until June. I have an Intel Compute Stick at Phoronix for testing.
The Intel Compute Stick I have shipped with Windows 8.1 32-bit, simply as the Ubuntu Linux version is hard to find until June. However, in a forthcoming Phoronix article I'll have the full review of the Compute Stick plus the steps to get the Compute Stick running with various Linux distributions -- warning: even with Ubuntu 15.04, it's not a clean out-of-the-box experience.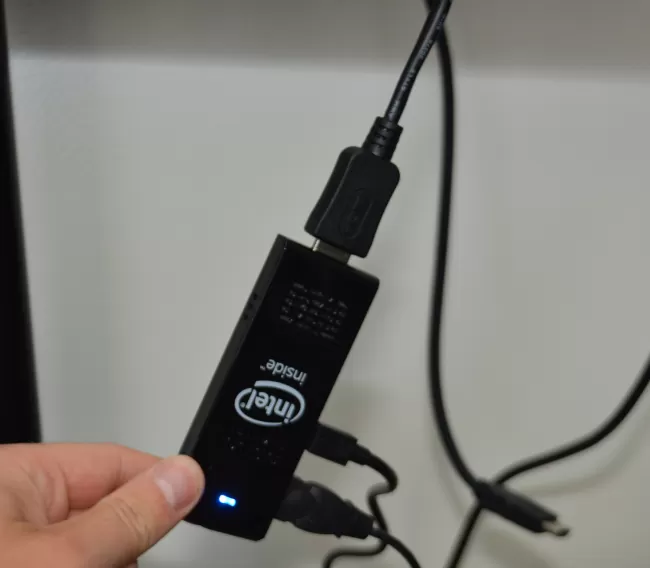 The Linux and Windows Compute sticks are quite a different story too, so I'm actually happier with the Windows version: the Ubuntu version has just 1GB of DDR3L memory while the Windows version has 2GB of DDR3L memory. Additionally, the Windows version has 32GB of eMMC storage while the Linux version has just 8GB. The price difference though is $100~110 for the Linux version while the Windows one is retailing for $150+ USD. It's rather sad to see the Linux Compute Stick have just 1GB of RAM especially as it's running 64-bit Ubuntu 14.04 LTS while the 2GB Windows stick is running 32-bit Windows, it's almost as if Intel is trying to cripple the experience of the non-Windows stick.
Both models of hte Intel Compute Stick have an Intel Atom Z3735F processor, which is a quad-core part clocked at 1.33GHz with a 1.83GHz while pulling just a 2.2 Watt SDP. The Z3735F also provides Intel HD Graphics.
Anyhow, stay tuned for all the Linux tests shortly from the Intel Compute Stick. If you're looking for the Intel Compute Stick, it's sold out at most Internet retailers, but I managed to buy this one earlier this week
over at Amazon.com
.