The GTX 1080 Pascal Linux OpenGL / OpenCL / Vulkan Benchmarks Begin Tomorrow
I've been extremely anxious since the NVIDIA GeForce GTX 1070/1080 "Pascal" announcement last month to see how these cards perform under Linux using open standards like OpenGL, Vulkan, and OpenCL, and you probably have been too if you're reading Phoronix. Fortunately, the start of the GeForce GTX 1080 Pascal benchmarks will be revealed tomorrow.
It's taken so long for delivering Pascal Linux numbers due to getting my hands on any hardware... While one of NVIDIA's PR reps had said at the beginning of last week "it's on order for you. should be there by end of week at the latest", that didn't pan out and nearly two weeks later still nothing. There's been no other useful communication since (granted, Computex is happening this week), but with this being a big mess just to get my hands on the hardware with lack of communication from them, I finally caved in earlier this week and ordered a GeForce GTX 1080... At least if they do still end up sending out a GTX 1080, I'll be able to run some GeForce GTX 1080 SLI Linux benchmarks! So hopefully that's the case and also still hoping they'll pull through after Computex with the GTX 1070.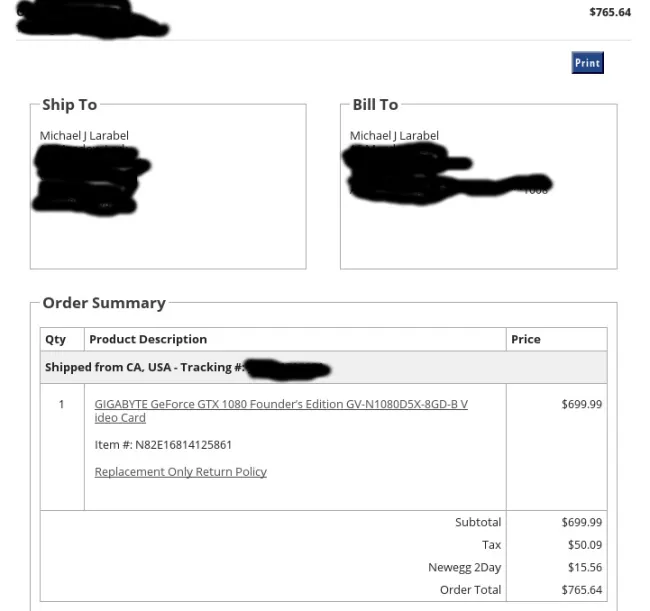 So
$765 USD
later, the GIGABYTE GeForce GTX 1080 Founder's Edition GV-N1080D5X-8GD-B is I think the most I've ever spent on a graphics card. At least I was lucky enough to find one in stock for a brief period of time earlier this week but have only been seeing the $699 Founder's Edition cards available rather than the less expensive AIB partner cards.
For more than the past week I've already been getting ready for my Pascal Linux coverage with re-testing my many AMD/NVIDIA cards using the latest available drivers on Ubuntu 16.04, recording some fresh thermal and power consumption data along with performance-per-Watt numbers, etc. With my passion for benchmarking, there are some large comparisons and will even go as far back in one of the articles as comparing the performance-per-Watt of the GTX 1080 to some classics like the GeForce 9800GTX with OpenGL.
Long story short, the articles beginning tomorrow and going through the weekend should be quite exciting. What more fun could be had with Phoronix.com turning 12 years old on Sunday! Stay tuned, and sorry it's taken this long to get out Pascal Linux OpenGL/OpenCL/Vulkan numbers. If you are interested in Pascal and wish to help off-set the cost incurred in being able to deliver these initial numbers, consider
joining Phoronix Premium during our week-long birthday sale
where you can get huge discounts on the ad-free version of our site that also lets you view multi-page articles (such as all the upcoming large Pascal tests) on a single page.