My Favorite Computer Desk Of The Past Decade For Less Than $100
My favorite computer desk of the past decade, and arguably my favorite ever, is back on sale and costing less than $100. In the past few years I've bought at least eight of them according to my transaction history and I continue to be very pleased by their quality and price.
For the frequent Phoronix readers, the desks I'm talking about are, of course,
these L-shaped glass desks
I've mentioned before as being great and quite a bargain when retailing for under $100. At times the glass desks have fluctuated in price as low as $75, but I've paid well over $100, which even still isn't too bad. The desk being referred to is the
Walker Edison 3-Piece Contemporary Glass and Steel Desk
and is frequently in the background of many Phoronix pictures.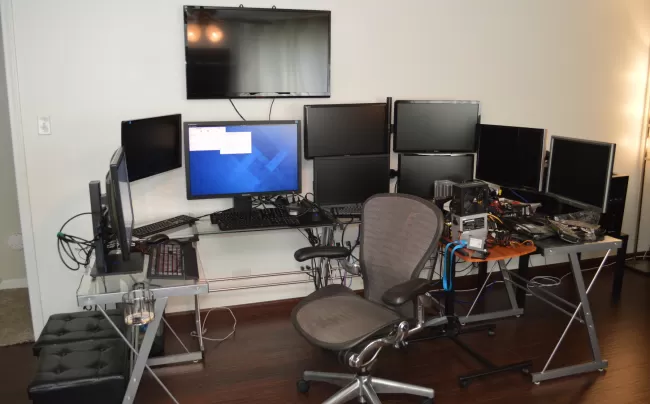 The price is excellent compared to other glass, wooden, and other composite desks available over the Internet and at retail stores in America. Over all of these Walker Edison L-shaped glass desks I've bought, they've all held up extremely well and handled multiple monitors easily. Some of them have also had to stand up to the weight of multiple SilverStone ATX enclosures and other significant weight. At the end of the day, they've all worked out great and extremely versatile as some of the pictures have shown.
Back when
turning my basement into a massive server farm
I was going to pickup yet another Walker Edison glass desk, but at the time the price listed at Amazon was rather high... Fortunately, now the price is back down to being very reasonable, which is why I'm giving them an extra shout-out today. You can
find these desks at Amazon.com
and as of writing the pure black desk is $102, the glass on black metal is $95, and the black on silver is up to $109. Regardless of color choice, the desks around these prices are great, so I just wanted to pass them along to Phoronix readers again for those that often ask about my desk/office choices (and yes, the Amazon link is a referral link that will also go to help support Phoronix).
Aside from the pictures in this article, you can see these desks in the background of many Phoronix images over the past 5+ years I've been using the desks. At the end of the day they're great. My biggest criticism would be not liking the keyboard tray as it collides with my chair/legs, but that's very trivial to remove / not assemble when putting together these Walker Edison desks.
If you have any questions about these low-cost glass desks, feel free to post in the forums or let me know via
Twitter
, etc. Again,
go check them out on Amazon.com
; besides being a big fan of these desks for many years and using them in many configurations, there's 1850+ reviews with a 4.5-star rating. If you don't agree with my assessment, feel free to share via the forums or Twitter what your favorite desk has been over the years.