Show Your Support: This site is primarily supported by advertisements. Ads are what have allowed this site to be maintained on a daily basis for the past 18+ years. We do our best to ensure only clean, relevant ads are shown, when any nasty ads are detected, we work to remove them ASAP. If you would like to view the site without ads while still supporting our work, please consider our ad-free Phoronix Premium.
The BSDs Had A Wild 2017: FreeBSD 11.1, TrueOS & More
While Linux is our predominant focus at Phoronix, a special place in our heart remains for the BSDs. Here's a look back at the most popular BSD operating system articles on Phoronix this year.
This year saw the release of FreeBSD 11.1, many FreeBSD derivatives updating against the latest FreeBSD 11 state, the release of DragonFlyBSD 5.0, the firewall/network-focused BSD operating systems continuing to do well, and TrueOS (formerly known as PC-BSD) continuing to become a more compelling FreeBSD-based desktop operating system that is also competent for server installations.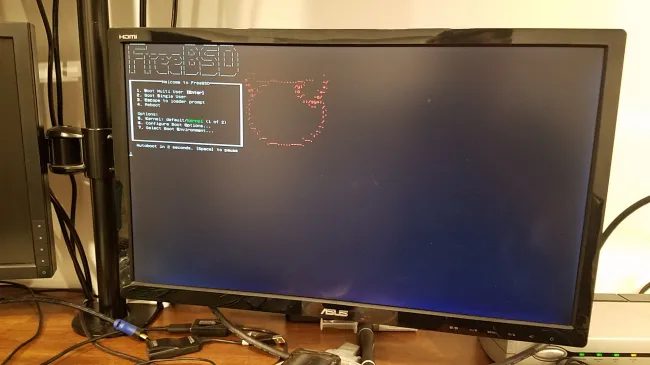 For those interested in the BSDs alongside Linux, here are our most popular BSD articles on Phoronix in 2017:
TrueOS Making Use Of OpenRC Init System, Faster Boot Times
For those still looking to escape systemd, the BSDs remain free and the FreeBSD-based TrueOS is currently working on making use of OpenRC.
TrueOS BSD Stable Milestone With Installer Improvements, Lumina 1.2.2 Desktop
TrueOS, the FreeBSD-derived operating system formerly known as PC-BSD, is out with a six-month stable release update.
pfSense 2.4 Released, Rebased To FreeBSD 11.1 & New Installer
There's a new version available of pfSense, the popular BSD-based operating system common to network appliances / firewalls / routers.
FreeNAS 11.0 Released
FreeNAS 11.0 is now officially available, the network attached storage (NAS) centered operating system powered by FreeBSD.
Lumina Desktop Gets Its Own Media Player
There's now yet another open-source media player, but this time focused on the BSD-focused Qt-powered Lumina Desktop Environment.
It's Become Much Easier To Run Steam On FreeBSD-Derived TrueOS
There have been ways to get Steam running on FreeBSD using Wine and efforts as well with using the operating system's Linux binary compatibility layer, but now it's become much easier for users of TrueOS, formerly known as PC-BSD.
NetBSD Making Progress On LLDB Debugger Support
Not only has FreeBSD been making progress with supporting LLDB as LLVM's debugger alternative to GDB, but the NetBSD project has also been making inroads with this open-source debugger.
Lumina Desktop Environment 1.3 Preparing For Release
TrueOS developers continue working on their Lumina Desktop Environment and coming up soon is the v1.3 release of their Qt5-powered desktop environment.
Intel To Increase Engagement With FreeBSD, Makes $250k Donation
Intel is going to more actively engage with the FreeBSD project and they've also made a hefty donation to the FreeBSD Foundation.
FreeNAS 11.0 Release Candidate Up For Testing
For those looking toward a new NAS (Network Attached Storage) operating system, the FreeBSD-powered FreeNAS 11.0 is nearing release.
Trying Out AMD's Ryzen Threadripper On TrueOS, DragonFlyBSD
Following the AMD Threadripper Linux tests of this week today I finally had a chance to try out some of the BSDs with this 16 core / 32 thread system.
FreeBSD 12 Looking At Dropping SVR4 Binary Compatibility
FreeBSD has long had a SVR4 (System V Release 4) compatibility layer, but FreeBSD 12 will likely do away with this support.
TrueOS 20170424 Stable Update
For those wishing to try out the FreeBSD-based desktop-focused TrueOS operating system, formerly known as PC-BSD, there is a new stable release.
NetBSD 7.1 RC1 Released
The first release candidate of the upcoming NetBSD 7.1 is now available for testing.
FreeBSD 11.1 Beta Now Available
The first beta for FreeBSD 11.1 is out right on schedule.
Radeon DRM Driver For DragonFlyBSD Sees Big Update
DragonFlyBSD has updated their port of the Radeon DRM Linux driver code to provide better open-source AMD graphics support.
DragonFlyBSD's HAMMER File-System Gets Important Write Performance Boost
Matthew Dillon has discovered an important bug in the DragonFlyBSD kernel's VFS cluster code affecting the HAMMER file-system write performance.
DragonFlyBSD 4.8 Up To Release Candidate Phase
DragonFlyBSD 4.8 will be coming soon.
FreeBSD Made Progress In Q1'2017 On Linuxulator, Nearly 30k Ports
The FreeBSD team has published their quarterly status report to reflect the progress made by this open-source operating system during Q1'2017.
OPNsense 17.1 Released, Based On FreeBSD 11
OPNsense 17.1 is now available as the newest release of this network-focused FreeBSD-based operating system forked from pfSense.