AMD Announces The Rx 300 Series, Fiji-Based Fury X, R9 Nano, Project Quantum
AMD announced their Radeon Rx 300 series line-up just now via an event in Los Angeles that was live-streamed on Twitch.
The R7 300 series is the Radeon R7 360 for entry-level online gaming (as low as $109 USD) and Radeon R7 370 for $149.The Radeon R9 300 series is made-up of the Radeon R9 380 at $199+, Radeon R9 390 at $329+, and Radeon R9 390X and $429+.
The Fiji-based GPUs are under the Fury marketing name as has been known for a while now. The Fiji GPUs boast the much talked about High Bandwidth Memory (HBM) and are AMD's most complex yet efficient GPUs to date. The Radeon R9 Fury X is geared for 4K and 5K gaming and is 1.5x performance-per-Watt over the Radeon R9 290X. The Radeon R9 Fury X is water-cooled while the Radeon R9 Fury is air-cooled. The Fury X has 8.9 billion transistors and has a 275 Watt TDP.
The Fury X will start being sold later this month for $649+ while the Fury will sell in July starting for $549. The R9 Nano and a dual-Fiji GPU will come later in the year.
The Radeon R9 Nano is another new, very small graphics card with Fiji HBM all in a six-inch size while delivering 2x the performance-per-Watt performance of the R9 290X.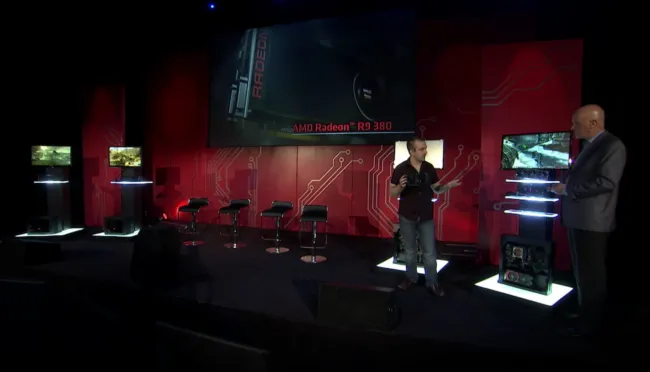 New features for the Rx 300 series: Frame-Rate Target Control (FRTC) to limit rendering performance when the target is reached to avoid rendering unnecessary frames. Virtual Super Resolution (VSR) for rendering games at higher resolutions and then down-scaling to your monitor's panel resolution. No word on Linux driver support for these new gaming-oriented features.
DirectX 12 was mentioned extensively during the hour-long presentation -- including DX12 demos -- while Vulkan received a few mentions. Linux (and anything open-source related) received no mentions.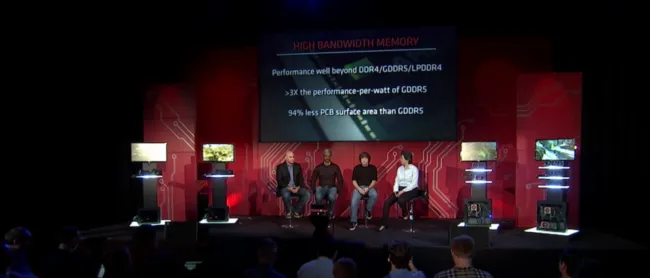 Project Quantum is AMD's new ultra small form factor console with dual Fiji GPUs. AMD will be bringing this powerful PC to the market with their partners in the near future, but no word if SteamOS/Linux option, etc.
As of writing I've yet to receive any Rx 300 series review samples for Linux testing at Phoronix nor has AMD's marketing representatives said whether that will happen. Though if it's like the earlier GCN launches and unlike the older days, I'll likely end up having to buy the graphics cards retail once they're available on Thursday in order to provide Linux tests. Stay tuned... If you appreciate the Linux hardware testing done at Phoronix please consider
subscribing to Phoronix Premium
or
making a PayPal tip
; I hope there's enough support in being able to deliver Linux tests of one of the AMD Fury graphics card models.
Assuming the Rx 300 driver situation is like past launches, AMD will soon released a new Catalyst Linux driver (beta) for supporting the new hardware but it will be interesting to see how the performance is under Linux with OpenGL given that the current Rx 200 series hardware
has various performance issues and problems
with different Steam Linux games, etc.
The open-source support story will be different and likely won't be widely-available and in good standing for Linux users until the fall. Only with the upcoming
Linux 4.2 kernel
is there
the new AMDGPU kernel driver
needed for supporting this new hardware (along with the existing Tonga GPU family). Beyond needing Linux 4.2, there's also the new xf86-video-amdgpu DDX, the latest LLVM code, and yet-to-be-merged Mesa support code. If you're running Arch Linux or another rolling-release distribution you might be getting sufficient support soon, but Fedora/Ubuntu-type users won't see good support until at least the fall summer releases. I will be running some Git tests with the R9 285 and Rx 300 series hardware as soon as Linux 4.2 starts stabilizing. As one caveat, it appears the AMDGPU driver for Linux 4.2 doesn't support the Fury/Fiji graphics cards, so that support might be staved off until Linux 4.3 or longer.