Anyway, I still cannot understand your problem I don't get a single bit of banding at sane zoom levels at 16 bits:
About your 400% zoom examples,
you cannot get 100% rid of banding on raster tools
, neither Photoshop (well, at least not without a 10 bits or more monitor or beyond, but it happens to be the case of Krita too, even so distributing 8 bits images would boil this advantage):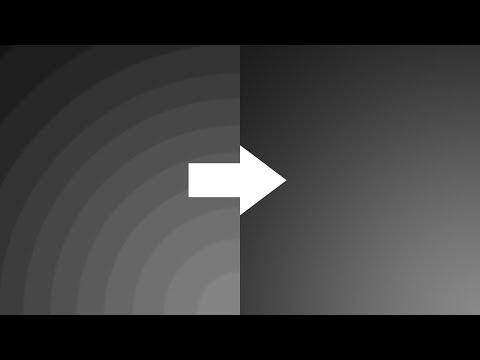 In this video banding is discussed in a reasonable depth on Photoshop, but obviously even when he state "there is no banding" it is pretty visible there still at such high zoom levels that the banding is still there. Krita achieves the same result in 16 bits and so I suggest you go in search of more hybrid solutions that mix vectorization or something else. You
will not
get rid of banding at 400% zoom in raster tools. You can make it less stronger with noise but at this level of zoom you will start seeing the noise, at this level, pixels are too much big even in a huge canvas.
At 16 bits krita does as well as photoshop or any other raster tool I've seen. If banding start bothering because of downsampling, I end adding a very transparent noise layer before the conversion, and it is done.
Sure, not quite automated as Photoshop, but I prefer this fine grain control as it is not on all art types that such banding will show and I would not like a auto noise addition polluting my images. But I agree at some level, a dithering option in the pixel engine would be welcomed to those that work in 8 bits, also adding a "dithering" option on color space conversion dialog would be very welcomed too.