His "software freedom" stuff is just bizarre and has no relevance to the real world. This is a man who declines to use the web "for personal reasons". This is the behavior of a fanatic, not an advocate. That's why the Open Source Initiative was formed - free software without the fanaticism. The world moved on from Stallman quite some time ago and open source could survive just fine without him. The FSF, like Stallman, contributes nothing now other than endorsing ancient hardware and making a list of free software alternatives we need for proprietary software (without doing a thing to fund or produce said software). It's a joke. As for giving good talks about free software - I'm quite sure I've seen many fine talks about free software where no one eats something from the bottom of their foot while speaking. :-( This man is
not
a good spokesperson or role model for open source software. Did you see his interview on The Linux Action Show? Despite knowing the topics beforehand, he had no answer as to how a software developer could adhere to all of his freedom rules and still earn a living. He tells Bryan Lunduke that if he can't make money from open source software he should "go work in a mine or something" and then tells Bryan he's "negative in the freedom dimension". :-( There were jokes about Stallman's pitiable performance for months after that interview. The Emperor has no clothes - when asked challenging questions, he just goes into robot mode, repeating the same thing over and over, which was the same experience I've had when interacting with him.
Basically he's spent decades coasting on the GPL license. It's time to say thanks, here's the gold watch, now goodbye. Let's find a more presentable spokesperson who can speak about open source without announcing they're glad Steve Jobs is gone before he's even buried or making women feel creepy. And someone who can say "congratulations!" when someone announces they've had a child rather than proclaiming that free software is more important. :-(
Could people please not use this list to announce information of no particular interest to the people on the list? Hundreds of thousands of babies are born every day. While the whole phenomenon is menacing, one of them by itself is not newsworthy. Nor is it a difficult achievement--even some fish can do it. (Now, if you were a seahorse, it would be more interesting, since it would be the male that gave birth.)

Following your example, I might send the list an announcement whenever a new GNU program is written. That happens less often than babies are born, it does the world a lot more good, it reflects more conscious creativity and hard work, and some of the readers might actually find the information useful.
Sorry, but we can do better than this. A
lot
better.
Come to think of it, this does us no favors either....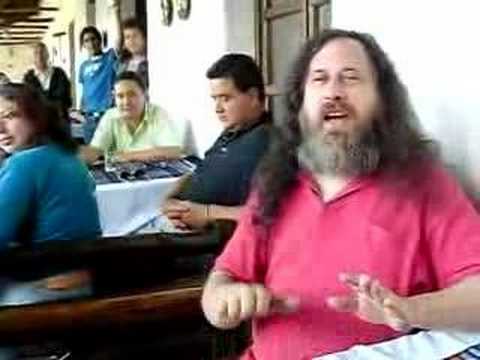 Or this....
This is what we need....