More X.Org developers.
At the "Intel table" was Kristian Høgsberg, Jesse Barnes, Jakob Bornecrantz (VMware / Tungsten Graphics), Jerome Glisse (Red Hat), and Keith Packard.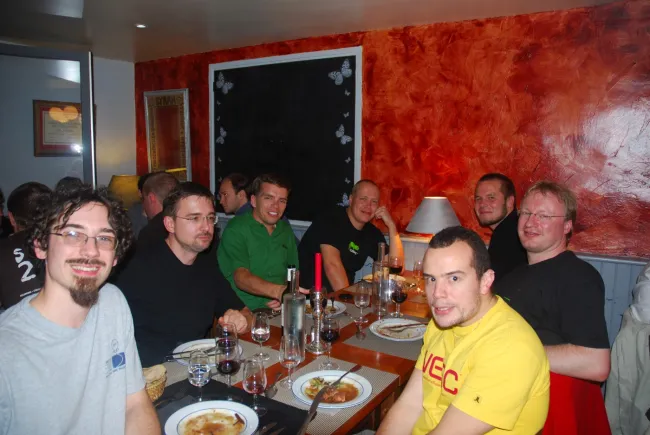 At our table was Jamey Sharp, Egbert Eich (Novell / RadeonHD), myself, Luc Verhaegen (formerly a Novell RadeonHD developer, now a contractor serving Nokia), Tapani Paelli (Nokia), Matthias Hopf (Novell / RadeonHD), and Tiago Vignatti (Nokia).
Peter Hutterer of Red Hat who is the mastermind behind Multi-Pointer X, X Input 2, and other input work is the one facing away from the camera in the Sydney shirt.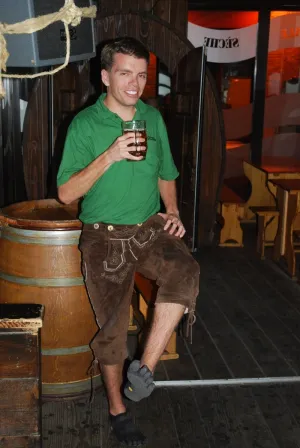 Yes, even Lederhosens were to be found at XDS Toulouse. Now it's time though to drink some Augustiner and meet up with a variety of Phoronix readers at Oktoberfest. There are also some other X.Org Developers' Summit notes to be published along with the recordings, when time allows.
Discuss this article in our forums, IRC channel, or email the author. You can also follow our content via RSS and on social networks like Facebook, Identi.ca, and Twitter (@Phoronix and @MichaelLarabel). Subscribe to Phoronix Premium to view our content without advertisements, view entire articles on a single page, and experience other benefits.