System Setup:
We had tested the Sparkle GeForce 9500GT 1GB with Ubuntu 8.10 on the Linux 2.6.27 kernel, X.Org 7.4, and the NVIDIA 177.80 display driver. The GeForce 9500GT is supported by NVIDIA's binary driver and it had "just worked" with Linux quite well.
The fan used by Sparkle was quiet during operation and we had no noise complaints with this graphics card. The average temperature of the GPU core during testing was between 40° and 50°C. The stock frequencies for the GeForce 9500GT are 550MHz for the core and 800MHz for the DDR2 memory. Using CoolBits for Linux we were able to push these frequencies higher. The optimal frequencies as detected by CoolBits were 588MHz for the core and 980MHz for the video memory.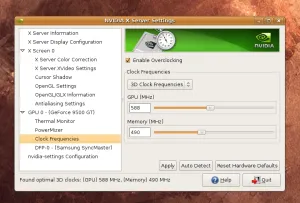 Our test system consisted of an Intel Core 2 Duo E8400 running at 4.00GHz, an ASUS P5E64 WS Professional motherboard (X48 Chipset + ICH9R), 2GB of OCZ DDR3-1333MHz memory, a 160GB WDC WD1600JS-00MHB0, and an OCZ 750W power supply. To compare the performance of the Sparkle 9500GT 1GB we had also benchmarked a Gigabyte GeForce 8500GT 256MB, ECS GeForce 8800GT 256MB, and an ASUS GeForce 9600GT 512MB. We were using Phoronix Test Suite 1.4.0 for testing with the Nexuiz, OpenArena, World of Padman, and GtkPerf tests.