The MCP78S chipset isn't too Linux friendly if using a pre-2.6.25 kernel. Those wanting to use Ubuntu 8.04 or another earlier distribution will run into problems with the disk controller. However, when using Fedora 9 the installation experience was flawless. But when rebooting into the Fedora 9 desktop, we experienced another problem. When using the VESA driver with an analog VGA connection, the monitor frequency was out of range. Once, however, stopping X we just proceeded to install NVIDIA's latest binary driver. The driver being used for testing and the latest at the time of publishing is the 173.14.05 release.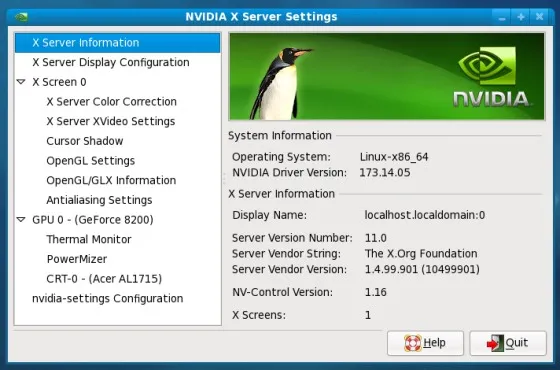 When using the NVIDIA 173.14.05 driver, the GeForce 8200 was properly detected and we were ready to go. The thermal monitoring was working correctly under Linux.
PowerMizer had detected a single performance level. When attempting to overclock this IGP with CoolBits, the system would lock-up.