In our Linux benchmarking of this high-end Intel processor we compared it to a selection of Intel and AMD CPUs that we had available. On the Intel side we compared the Gulftown performance to the fellow Core i3 530 "Clarkdale" (2.93GHz Quad-Core), Core i5 750 "Lynnfield" (2.67GHz Quad-Core), Core i7 870 "Lynnfield" (2.67GHz Quad-Core + Hyper Threading; 3.6GHz Turbo Frequency), and Core i7 920 "Bloomfield" (2.67GHz Quad-Core + Hyper Threading; 2.93GHz Turbo Frequency). On the AMD side we compared the performance to a Phenom II X3 710 overclocked to 3.02GHz and then a workstation that boasted dual AMD Opteron 2384 Quad-Core "Shanghai" processors clocked at 2.7GHz. When comparing the performance between the Core i7 920 and Core i7 970 we were able to simply swap out the CPUs since they both are based upon the same LGA-1366 socket, but for the rest of the systems we had to use different motherboards while trying to maintain as many of the same components as possible.
The Core i5 750 / Core i7 870 test system had an ECS P55H-A motherboard, 4GB of OCZ dual-channel memory, the OCZ Vertex 64GB SSD, and the NVIDIA GeForce GTX 460. The Core i5 530 system had an ECS H57H-M motherboard while the rest of the hardware was the same as the Lynnfield setup. With the overclocked AMD Phenom II X3 setup we used a MSI 890GXM-G65 motherboard while the rest of the hardware was the same as these other setups. Lastly, with the AMD Shanghai octal-core workstation there was a Tyan Thunder n3600M (S2932) motherboard with 4GB of Corsair ECC Registered memory while the disk (OCZ Vertex 64GB SSD) and graphics card (GeForce GTX 460) were the same. All of these systems had clean installs of Ubuntu 10.10 64-bit and its stock packages; for reference, key versions include the Linux 2.6.35-22-generic kernel, GNOME 2.32.0 desktop, X.Org Server 1.9.0, NVIDIA 260.19.06 display driver / OpenGL 4.1.0, GCC 4.4.5, and the EXT4 file-system.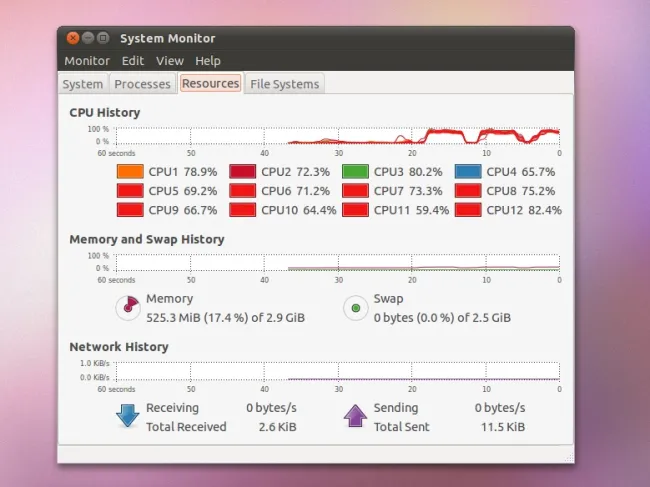 While more Linux / open-source programs are becoming more multi-core friendly, most standalone programs will have a hard time taking available of all twelve processing threads, unless you are multi-tasking. Fortunately, the Phoronix Test Suite with its 130+ test profiles there is a large selection of single and multi-threaded tests. For this Linux performance comparison we used the following test profiles across the seven processors: 7-Zip, Parallel BZIP2, x264, GraphicsMagick, Himeno, Bullet Physics, C-Ray, POV-Ray, Smallpt, Crafty, HMMer, Minion, NASA NAS Parallel Benchmarks, Apache compilation, OpenArena, and TTSIOD 3D Renderer. This selection of tests should show quite well what type of Linux performance you can expect to get from the Intel Core i7 970 and other test CPUs for most all areas.
Aside from the Phenom II X3 being overclocked, all other CPUs were running at their stock speeds and for the capable Intel CPUs, the Turbo Frequency support was kept enabled.
On an unrelated note to the Core i7 970, this is one of our first Phoronix articles where we are showcasing a preview of the new result graphs rendered by very early code under Phoronix Test Suite 3.0 "Iveland" with its improved pts_Graph library. These graphs are much-improved from previous versions already, but we're not yet done and by the time Phoronix Test Suite 3.0 and OpenBenchmarking.org is launched in the first quarter of next year, there will be SVG-powered graphs in supported web browsers on Phoronix.com and within the Phoronix Test Suite Results Viewer. Not only are these graphs more visually pleasing, but also the standard error (SE) is reported for each result to confirm the statistical accuracy of all benchmark numbers and there are also error bar indicators shown where relevant. We are currently looking for feedback on these initial static graphs. Providing comments and more information on these Iveland graphing improvements can be found in this posting.