System Setup:
We had installed 1GB of Crucial DDR2 memory and used a Seagate 100GB hard drive that was contained inside an Enermax Laureate enclosure. The system had booted without fault.
Linux Performance:
Gigabyte advertises the GB-STA-C7V7 as having server OS compatibility with Windows 2000/20003, NT 4.0, and even Citrix, but no Linux server OS is specified. However, on the resident OS compatibility list, NeoLinux is listed as well as Windows CE, Windows XP, Windows XP Embedded, and Windows 2000. NeoLinux isn't as popular as Ubuntu, Red Hat, or SUSE, but NeoLinux is based upon Red Hat and is optimized for information appliance devices.
Prior to installing any distribution on the Gigabyte STA we had first ran the Linux-ready Firmware Developer Kit. The BIOS on this motherboard had three failures, four warnings, and twelve passes. It is important to note, however, that this doesn't mean the system is faulty, but this Intel software kit is just targeted at firmware/BIOS developers for optimizing their BIOS to better support Linux.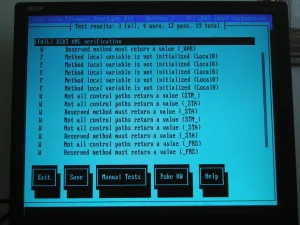 Following the Intel Linux-ready Firmware Developer Kit, we had tried out several distributions on this thin client. The major distributions we had tried were a development version of Ubuntu 8.04 "Hardy Heron", SLAX 6.0, Mandriva Linux 2008, and Fedora 8. With all of the Linux 2.6 distributions tried, the Gigabyte STA system had worked successfully. We had even tried out Solaris Express Developer Edition 1/08, but with the USB enclosure used we had experienced SCSI transport failures.