Linux Support
At the time of publishing there remains no open-source support available for the Radeon HD 7000 series. This is not just about open-source 2D/3D acceleration, but there is not even kernel mode-setting (KMS) support for this latest hardware yet. I hope that it will be here in the coming weeks, but right now, there is zero support.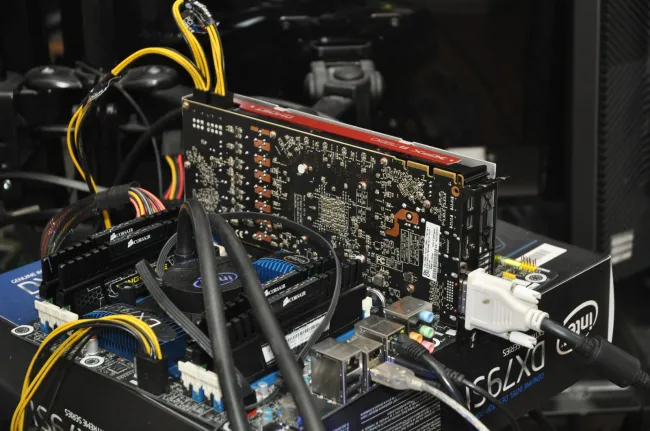 When the open-source support does arrive, it will still be years behind the Catalyst driver. The performance will be slow, it won't have as effective power management / power efficiency, it will be initially limited to OpenGL 3.0 support rather than OpenGL 4.2, there won't be UVD video acceleration, no CrossFireX, etc. The open-source Radeon driver doesn't even enable PCI Express 2.0 by default, so it will also be handicapped there for the PCI-E 3.0-capable Radeon HD 7000 series cards still running at PCI-E 1.0 speeds.
As far as the Catalyst Linux driver goes, I was using an fglrx 8.95 series driver, which is very similar to the recently released Catalyst 12.2. This driver, which is marked as fglrx 8.95.3 and the OpenGL 4.2.11566 driver, did work for with the XFX Radeon HD 7950 for having 3D acceleration and the other standard Catalyst Linux driver functionality of the card. However, as said at the beginning of the article, the unsupported hardware watermark was still present. This happened with a clean install of Ubuntu 12.04 LTS and then proceeding to install the latest Linux binary driver I had my hands on.
Besides having an "unsupported hardware" watermark constantly showing on the lower-right hand corner of the display, more of an issue with the unsupported hardware status is that it disables aticonfig/amdconfig functionality. The AMD Linux utility simply finds "no supported adapters", which as a result limits the functionality of the card. Without access to aticonfig/amdconfig, the graphics core and memory clocks cannot be manipulated. The XFX Radeon HD 7950 is factory-overclocked 900/1375MHz (HD 7950 reference: 800/1250MHz), but with the Linux Catalyst driver still showing this as unsupported hardware, this card can't be dropped down to the reference speeds nor are we able to see how much further overclocking headroom there is out of this new graphics card. In other words, there are real implications of "unsupported hardware" with the Catalyst Linux driver rather than just an annoying watermark. I hope that with the fglrx 8.96 release stream it will finally be shown as being supported and then allow us to overclock/downclock the XFX Radeon HD 7950.