What AMD gets out of this private beta testing is ensuring greater distribution compatibility and community maintained packaging scripts. The broader, independent testing also provides AMD with feedback on problems their internal QA teams may have missed. This testing is especially valuable as AMD only officially supports the Catalyst Linux driver on Red Hat Enterprise Linux, SuSE, and Ubuntu distributions.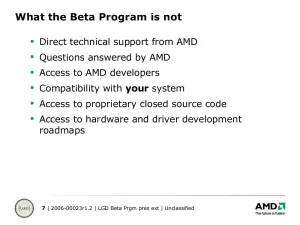 Not covered on this private beta list is normally any direct tech support, an AMD question answering session, access to AMD developers, access to proprietary source-code, or access to hardware and driver road-maps. In fact, leading up to the release of the RV770 GPU for the Radeon HD 4800 series, the support was never mentioned in advance on the list. The change-logs for the early releases are usually incomplete.
AMD does about four driver releases (usually two beta, a release candidate, and then the general availability build) each month. That about covers the declassified information on AMD's Linux Beta Program.
Discuss this article in our forums, IRC channel, or email the author. You can also follow our content via RSS and on social networks like Facebook, Identi.ca, and Twitter (@Phoronix and @MichaelLarabel). Subscribe to Phoronix Premium to view our content without advertisements, view entire articles on a single page, and experience other benefits.