Examination:
A year ago we had looked at the A-DATA Vitesta DDR2-800 Extreme memory, which is similar to the A-DATA Vitesta Gaming DDR2-800, but it was only a 2GB kit and it actually had tighter latencies of 4-4-4-12 compared to 5-5-5-12 with this newer memory. The heatspreaders between the two models are similar but with the Gaming Series being colored black instead of red. A-DATA's logo is on the heatspreader along with the Gaming Series logo.
On each side of the heatspreader are stickers that show the part numbers (AD20800G002GMU), type (DDR2-800G), timings (CL 5-5-5-12), voltage (1.9V ~ 2.1V), and the company's URL. These heatspreaders on the A-DATA Vitesta Gaming memory is very simple and similar to the heatspreaders we have seen on DDR1 and DDR2 memory for years by various companies. This memory does support NVIDIA's Enhanced Performance Profiles.
Performance:
We had used the same test system for this memory as what was used with our recent Corsair DHX 4GB DDR2-800MHz memory review. This consisted of an AMD Phenom 9500 processor, ECS 790GXM-A motherboard, ATI Radeon HD 4870 512MB graphics, Western Digital 160GB Serial ATA 2.0 hard drive, and a SilverStone Zeus ST75ZF 750W power supply. The operating system in use was Ubuntu 8.04 (x86_64 edition) with the Linux 2.6.24 kernel and Catalyst 8.9.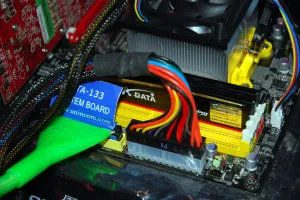 To start this memory testing we had run it with our Phoronix Test Suite 1.4.0 Alpha 1 build at its stock DDR2-800MHz frequency with 5-5-5-12 timings. After that, we had proceeded to see how far we could push this memory, but the results were disappointing. We were not even able to overclock this memory to 1066MHz even with these relaxed latencies. Around 950MHz is where this memory began exhibiting stability problems. Supplying additional voltage didn't alleviate this situation. We compared this memory performance to the recently reviewed Corsair DHX and OCZ ReaperX HPC memory. The Phoronix Test Suite tests were Nexuiz, LAME MP3 encoding, Mencoder, GnuPG, OpenSSL, SQLite, RAMspeed, and Bandwidth.