Performance:
The dual CCFL rings are "bright enough to light up or illuminate the entire chassis", as described by Logisys. This is certainly not an overstatement. The dual CCFL rings are so bright alone that no other lighting would be needed to brighten a standard ATX case. The expansion bracket with On/Off switch comes in handy to externally control the CCFL rings of the fan. The fan, rated at 22 dB, is indeed very quiet and produces a fair amount of air, and there is very little vibration from the fan.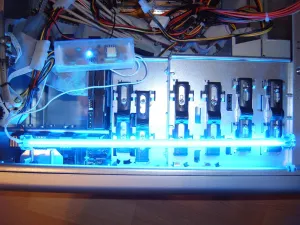 The Blue CCFL is very bright as well; it seems to be just as bright as the CCFL on the fan, if not brighter. The sound activated switch with adjustable knob is probably the most interesting feature. With the sensitivity turned up all the way, even moving a piece of paper against the dual inverter (where the sensor is) brightens the case up. When turned down, the light would only brighten up when the sound is really loud.
Conclusion:
Overall this is a very nice fan, especially if one is looking for a way to brighten up their chassis with LED fans. Unlike conventional fans with LEDs, the dual CCFL rings are much brighter than the LED, and the On/Off switch is definitely an added benefit. If you are seeking a quiet fan that also looks good, Logisys has exactly the right product with their Double CCFL Fan Kit. The 15" CCFL is for those who want to maximize the light inside any chassis. The bright bulb with the innovative sound sensitivity adjustable knob is very useful for users who can adjust the sensitivity under different circumstances. These CCFL kits are available in different colors, as well as UV, too. Overall, these were two additional very interesting products from Logisys.
Pros:
· Very bright lighting from the CCFLs (compare to other LED fans)
· Quiet fan with decent airflow
· Available in 5 colors
· Easy installation
· 15" of bright lighting
· Sound Activated switch with adjustable sensitivity knob
· Dual Inverter
Cons:
· Some users may require some modification before mounting into their case
· Velcro mounting
· Nothing exceptional about the CCFL itself
Discuss this article in our forums, IRC channel, or email the author. You can also follow our content via RSS and on social networks like Facebook, Identi.ca, and Twitter (@Phoronix and @MichaelLarabel). Subscribe to Phoronix Premium to view our content without advertisements, view entire articles on a single page, and experience other benefits.