BIOS:
Like previous Tyan motherboards, Tyan continues to use a Phoenix Award BIOS. The BIOS we are using today is v1.00. The different options available from the main screen include the usual Standard CMOS Features, Advanced BIOS Features, Advanced Chipset Features, Integrated Peripherals, Power Management Setup, PnP/PCI Configurations, PC Health Status, and Frequency/Voltage Control. Other selectable items also include Load Fail-Safe Defaults, Load Optimized Defaults, Set Supervisor Password, and Set User Password.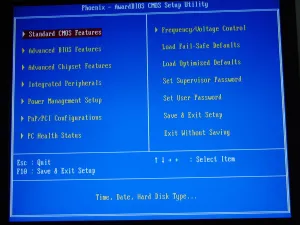 Found inside Standard CMOS Features is the usual: time, IDE/SATA channels, hard disk type, and memory information. Inside the Advanced BIOS Features, there are more options to adjust than what was seen in the Standard CMOS Features interface. These options include hard disk boot priority, virus warning, Quick POST, APIC Mode, etc…
Finally into the Advanced Chipset Features we see the adjustable CPU Frequency, HT Frequency, HT Width, and DRAM Configuration. As for the CPU Frequency, it can be adjusted from 200–250MHz, with a varying scale. From 200-210MHz the frequency can be adjusted in 0.5MHz increments and from 210-230MHz it goes in 1.0MHz increments followed by 230-250 in 2.0MHz increments. Inside of the Advanced Chipset Features, the HT (Hyper Transport) Frequency can be set to 1x, 2x, 3x, 4x, 5x, or auto. Next up is the Hyper Transport width that can be changed from 16-16 with available options of 8-8, 16-8, and 8-16. In the DRAM Configuration submenu, the memory timings and other system memory settings can be fine-tuned.
On with the Integrated Peripherals, the onboard components such as the AC97 Audio and Parallel Port can be enabled or disabled. From this screen, the RAID configuration also occurs. The next screen that comes up is the Power Management Setup. Inside here, as you may guess, all of the power features related to the motherboard can be located. Unfortunately, in this menu or any other menu, there is no option to enable/disable AMD's Cool 'n' Quiet technology. Inside of the PnP/PCI Configurations, the Init Display First is to select the type of graphics card to boot with the system. The options available are PCI Slot and PCI Ex, if PCI Slot is detected the onboard ATI RAGE XL graphics will be used or any graphics card installed in a traditional PCI slot. If PCI Ex is selected, the single PCI Express x16 slot will be initialized for use on start-up.
Contained on the PC Health Status page is the CPU temperature, system temperature, VDIMM, Vccp, 5V, 12V, 3.3VSB, VBat, Vcc33, CPU fan speed, and fan speeds for three of the other fans. Unfortunately, with a total of six onboard fan headers (five of which are 4-pin connections to offer tachometer and V3P3 auto fan speed support) only four of these fan speeds are displayed. The options available on the PC Health Status page are Shutdown Temperature and Auto FAN Power Control. When enabling the Auto FAN Power Control, the minimum PWM temperature and PWM duty cycle set can be changed.
In the Frequency/Voltage Control area, the only options available are CPU Voltage Regulator, CHIPSET Voltage Regulator, and DRAM Voltage Regulator. Even though this section is called "Frequency/Voltage Control" only the three voltage regulators can be adjusted, NO frequencies are found in this menu. As previously mentioned, the CPU Frequency and Hyper Transport settings are positioned in the Advanced Chipset Features page. The CPU Voltage Regulator can be decreased to -0.100V in 0.025V increments while they can also be increased to +0.150V with the same 0.025V scale. The CHIPSET Voltage Regulator can also be increased up to +0.06V with 0.02 increments. The final voltage control option is for increasing the volts supplied to the RAM. The options available here are default, +0.01V, +0.02V, and +0.03V. The overclocking features found in this Tyan BIOS cannot compare to the options available with Abit USA and their SoftMenu/uGuru features or ASUS with their AI overclocking. Nevertheless, Tyan doesn't engineer their motherboards for breaking any overclocking records but rather designs server motherboards with maximum stability.